ENJOY TRAVELING HANDS FREE
WITH HANDS FREE KYOTO
ABOUT
In Kyoto, visitors can make use of a service that carries their luggage from the station to their accommodation,
while there are also many locations where they can store their luggage.
Discover and use the service ideally suited to your needs!
Bringing suitcases or other large luggage onto buses or trains can cause crowding and even prevent local residents from using their own transportation systems.
Go "hands-free sightseeing" whenever possible so everyone can get around comfortably!
Carry service

For visitors to Kyoto, this service carries luggage between Kyoto Station and their accommodation, as well as between their different accommodation facilities. If visitors complete the required procedures during open hours, they can drop off and pick up their luggage on the same day.

Luggage storage

This service allows visitors to store luggage that doesn't fit in lockers in various locations.

Coin Locker

A convenient option that can be used whenever the station is open.
Kyoto Station Area Map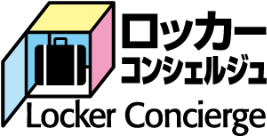 Check locker availability at Kyoto Station with Coin Locker Concierge.

ATTRACTION OF
HANDS-FREE TRAVEL
Sightseeing with large bits of luggage can be a hassle for both you and those around you.
Give hands-free travel a go to ensure a more enjoyable Kyoto sightseeing experience for all!
If you don't drop off your luggage…
You take up more space

It's harder to go sightseeing or shopping

Your luggage makes a lot of noise
If you drop off your luggage…
You free up space in vehicles

You can go hands-free sightseeing

You can pick up your luggage at your hotel
Why is HANDS FREE KYOTO so reliable?
This website is owned and operated by Kyoto City.
In collaboration with private corporations, Kyoto City is promoting HANDS FREE KYOTO, which is a program to encourage more visitors to enjoy hands-free sightseeing.
Please be assured that the services described on this website are provided by selected service partners with good track records.
MOVIE
HANDS FREE KYOTO "Camera" (15 second version)

HANDS FREE KYOTO "Getting on the Bus" (15 second version)

HANDS FREE KYOTO "Getting off the Bus" (15 second version)

HANDS FREE KYOTO "Nijo Castle" (15 second version)

HANDS FREE KYOTO "Souvenirs" (15 second version)

HANDS FREE KYOTO "Camera" (6 second version)

HANDS FREE KYOTO "Getting on the Bus"(6 second version)

HANDS FREE KYOTO "Getting off the Bus" (6 second version)

HANDS FREE KYOTO "Nijo Castle" (6 second version)

HANDS FREE KYOTO "Souvenirs" (6 second version)